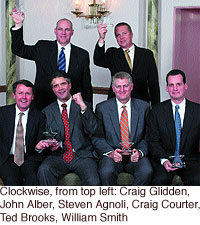 THE first annual Law Technology News Awards honor both products and legal technology leaders. Five awards recognized the achievements of law firms and corporate legal departments. The recipients were selected by a panel of three jurors, all members of LTN's Editorial Advisory Board.

I was a juror, along with Andrew Adkins III, of the University of Florida's Legal Technology Institute, and Fredric Lederer, law professor and director of the Courtroom 21 Project at the College of William & Mary.

I.T. director of the year
Craig Courter, chief technology officer, Baker & McKenzie.

Courter, recently promoted to the firm's chief operating officer, served as C.T.O. from 2000-2003, and led the firm's technology group in meeting the needs of more than 3,000 lawyers around the world.

He established a "Shared Services Centers of Excellence" program to provide improved technology resources in the most efficient and economical way. Unlike the firm's offices, which are located in the heart of many of the world's business centers, the services center sites are chosen for reasons of cost and accessibility. They include a network operations center in Manila; a global call center in Indiana; development centers in Manila and Jakarta, Indonesia. Some centers have already delivered cost reductions and reduced workload.

The outsourcing of so many technology and support processes is a startling change for the legal profession, where firms have traditionally done much of their professional and administrative functions internally.

At a time when the largest law firms continue to grow in size — and must seek additional business advantages — efficient delivery of technology services is critical.

Outsourcing can take advantage of less expensive pools of expertise; placing them in multiple locations increases the availability of these services throughout a 24-hour cycle.

As firms get larger, the economies of scale that are possible by centralizing technology and support processes can be significant.

Technology alone cannot make a firm better. Leadership like Craig Courter's is necessary to apply the technology systems and resources in such a way that the firm operates more effectively and, perhaps most importantly, the firm's clients receive even better service and support.

Most innovative use of technology during a trial
William Smith and R. J. Waldsmith, Abramson Smith Waldsmith. Ted Brooks, consultant.

Court technology runs the gamut from basic video presentation systems to complex evidentiary systems and multimedia options. Lawyers now use trial technology to present case facts, to highlight inconsistencies in testimony, and to help the fact finder understand the issues.

The attorneys of Abramson Smith Waldsmith, with consultant Ted Brooks, used many of the more common options available in a courtroom. Their technology use stands out, however, for how they used technology prior to the trial to maximize results at trial.

Video depositions were used extensively in a complex personal injury case. Challenged by the difficulty of telling their client's story, William Smith and R.J. Waldsmith used video to bring clarity to an otherwise confusing case. The goal: visual reinforcement during the trial to help the jury to see what they were hearing about.

The firm went beyond showing static images. They replayed a witness' deposition testimony, juxtaposed against the witness' courtroom testimony, to heighten the effect of the impeachment by plaintiff's counsel.

Not only was this a clear, easy to understand way to deliver the information, but using multimedia appealed to the jury and kept their focus.

Waldsmith and Smith also used video during their closing arguments, to reinforce their case and the testimony that had been presented. They used technology to keep witnesses — who normally would have departed once their role in the case was over — in front of the jury from the start of the trial to the finish.

Champion of technology
John Alber, Bryan Cave

There are many reasons why technology projects fail. One of the reasons for success is personified by John Alber, technology partner and head of the client technology group at Bryan Cave, who was recognized as the champion of technology.

It is not enough, any longer, for technology to deliver the results it is expected to deliver. Law firms and corporations must have people who will lead in order to make the inevitable changes that occur with technology happen as quickly and effectively as possible.

A stamp of a great organization is having a business leader who is willing to step forward and provide the additional support to enable that change to happen. It is not surprising, then, that John Alber's success was not through the delivery of any specific technology.

Instead, Bryan Cave created a function, led by Albert, called the client technology group.

Rather than focusing solely on lawyers or technology staff, this new group includes lawyers, business analysts, Web and multi-media developers, and other staff with expertise in technological areas, including litigation support.

The group's work has centered on delivery of improved services to clients using technology. Alber's leadership has meant that Bryan Cave has taken significant strides forward in addressing diverse client needs through better communication and delivery of information. The scope of the client technology group ranges from electronic litigation support, to overseeing a new docketing system, to the creation of Web logs (a.k.a. "blogs") for practice groups.

These kinds of changes are impossible without a champion who can bridge different staff and practice interests, and encourage everyone to pull in the same direction. When a champion emerges who also understands the benefits and power of technology to change how a firm operates, it can be a catalyst that makes success that much more likely.

Most innovative use of technology by a law firm:
Steven Agnoli, Kirkpatrick & Lockhart.

Today's firms face remarkable pressure to remain innovative, not only in the practice of law but in meeting business challenges.

Steven Agnoli, of Kirkpatrick & Lockhart, received the award for the development of a 360° performance review application. The firm wanted to improve its review process so that partners and associates were better able to give feedback that would lead to assignments that took advantage of lawyers' abilities, no matter which office they were in. For example, they wanted a partner who may have worked with an associate, but was not a direct supervisor, to have input into the review process.

The firm's development team used existing technology to build a Web-enabled system that pulls data from financial and human resources systems, to centralize information about each attorney being reviewed. This helps reviewers see demographic information about the attorney as well as data about hours billed and the projects that the attorney worked on.

The data integration reduces the need to access different systems to get a full picture of performance.

Reporting capabilities eliminate the need for I.T. staff to act as report generators. Attorneys and support staff with access rights can generate reports on demand.

Kirkpatrick & Lockhart built this system internally. They used standard development tools, including a Web browser, to integrate the software with the firm's other systems.

A niche application like this can be tricky, because off-the-shelf software may not integrate with, or otherwise meet the needs of, the systems used by a law firm.

Most innovative use of technology by an in-house legal department.
Craig Glidden, Chevron Phillips Chemical Co.

Creativity and innovation are not the sole domain of the law firm. Chevron Phillips Chemical Co,'s counsel, led by Craig Glidden, developed a "Convergence Project" when Chevron and Phillips merged and the new legal department had to address efficiency and growth issues.

Glidden, vice president and general counsel for Chevron Phillips Chemical Co., focused the counsel's office on reducing the complexity and costs created by the merger.

The Convergence Project set goals of reducing the number of law firms with whom in-house counsel worked, creating closer relationships with those firms, improving internal management of information, and establishing performance criteria for outside counsel.

Technology was the underpinning for the project; the primary goal was to improve business practices. The group analyzed what work was done and how long that work took for each type of matter handled by the counsel's office. This included a review of how many matters were handled internally or by outside counsel, and how many attorneys were required to handle these matters. The group then selected applications to support the Convergence Project, including acquiring matter management and electronic invoicing applications, and utilizing the company's pre-existing enterprise systems.

Chevron Phillips was able to leverage these systems to reduce the number of outside firms from 50 to nine, adopt electronic invoicing of outside counsel that integrates with internal matter management and accounting, and increase the ability of the entire legal department to share information. Perhaps as important as the technological benefits of integration and the efficiencies it allows, the Convergence Project provided an opportunity to coalesce a new legal team around systems that would make them more effective.

These award winners are outstanding examples of the way legal professionals can use technology to change how we operate and provide services to clients.

Each year brings new challenges, new technologies, and new opportunities. We look forward to the 2004 Law Technology News Awards to see the next group of outstanding technology leaders and achievements!

David Whelan is director of the American Bar Association's Legal Technology Research Center.
E-mail: wheland@staff.abanet.org.