Trial Preparation, Presentation, and Support
Many vendors claim trial support as one of their many service offerings. Although we offer several services as well, trial-related support and presentation services are our core business. Recently, we have noticed many videography and graphics vendors seeking an opportunity to get involved in this extremely specialized field of trial support. With a focus on shooting video, document copying, scanning, coding, or graphics, more often than not they are grossly under-qualified in this line of work, and lack the actual trial experience, perhaps risking your entire case.

At Litigation-Tech, we offer many years of actual trial, mediation, arbitration, and hearing experience, in a wide variety of litigation areas, and in matters of all sizes. From major-scale jury trials lasting several months, to one-day hearings in courtrooms and offices across the nation, plaintiff or defense, civil or criminal, we have been there. We spend more time in court each year than many attorneys do their entire career.

We can assist your team in whatever capacity desired- from full service support to providing our "Trial-in-the-Bag" solution, and anywhere in between. We offer our services at your comfort level - how refreshing to find someone interested in how you work. Further, we have worked on many trials involving multiple co-counsel firms, all needing to prepare and present various evidence in court. We are very talented and experienced in effectively managing several points of simultaneous contact, treating each as though it is top priority - a delicate balance that not many can master.

As a member of the American Society of Trial Consultants, we are also available to offer objective feedback during the course of the trial. On many occasions, this extra set of eyes has had a great influence on the outcome of a trial.

"Trial-in-the-Bag"
Litigation-Tech offers a "turn-key" solution for your smaller-scale hearings, mediations, and other times when cost or other restrictions may require you to take your own show on the road, or you simply are ready to "do-it-yourself" (with a sound, tested database). We build the database for you, provide instruction as needed, and send you off to court... Learn more



View Diagrams:
Contra Costa County Superior Courtroom Diagram
Napa Superior Courtroom Diagram (C)
Napa Superior Courtroom Diagram (G)
Stockton Superior Courtroom Diagram
Vista, CA Courtroom Diagram
ITC: Diagram of a Hearing Room Layout
Alameda County (Hayward) Diagram
Alameda County (Oakland) Dept. 19 Diagram

With many years of experience in litigation support, Litigation-Tech offers scalable solutions to your projects. Traditional litigation support functions offered include services such as copying, scanning, imaging, coding, and OCR. We tackle projects of this type when working on-site with your trial team. On larger projects, Litigation-Tech will scale up as necessary, always ensuring the quality and compatibility of the work-product. Often, substantial savings are realized when these projects are performed correctly the first time - rather than performing (and paying for) the same work two or three times in order that it will be compatible with each phase of your matter. Our expert staff will continually assess the project, offering every possible solution and option along the way. And, if the database has already become a disaster, we have successfully turned many "nightmare" projects around.



These types of functions and services were developed from our clients' needs and requests as a result of our rather inclusive "team" approach. Also, we are happy to partner with your preferred vendors, in order that we (and they) may better serve you.

Litigation-Tech offers expert-level experience in several popular litigation database applications including Summation, Concordance/Opticon, Introspect, CaseMap/TimeMap, LiveNote, Access and TrialDirector. Our staff has a great deal of in-house experience developing and maintaining databases, and has been involved in the development/upgrade phases in several of the software applications. If you are in need of database assistance, we have someone with the talent you are seeking. Long-term and/or ongoing arrangements are available. We also have a great deal of experience in several less-popular Litigation Support applications.

Learn more about Litigation-Tech CLE Courses and Training
Litigation-Tech offers on-site training in several litigation support software applications, including Summation, TrialDirector, and CaseMap. Learn more...


| | |
| --- | --- |
| When is the last time you tried to have a trial vendor configure your warroom? Chances are, you either could not find any support, you had to "make-do" with far less than basic conveniences, or your law firm simply does not have staffing available to live and work off-site for any period of time. Well, when Litigation-Tech is on your team, we work where you work- be it in a hotel room, co-counsel's guest offices or conference rooms. We have years of experience setting up and maintaining these warrooms, negotiating network setup and access, and designing the warroom and courtroom technology layouts according to your needs in the best possible way. Further, another non-marketed service we provide is paralegal support. When we are in the warroom, we are available to assist as needed. Whether helping someone connect to the Internet, putting trial exhibits together, transcript or Westlaw searching, or just making the coffee- we are not above or beyond anything you need assistance with. | View Diagram of a Warroom Setup |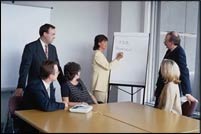 Project Management
An integral part of the total package, and something we normally include as a part of our Trial Support services, we can also assist your team in the role of Project Manager, even for the specific purpose of bringing all of your invoices together as one, quality control and supervision of your other vendors. This offers you one source, accountable for a great deal projects and tasks, performed by any number of vendors. Why would you consider using Litigation-Tech as a Project Manager over other vendors? Because Litigation-Tech and its staff started in large law firms, and have the "insider" experience needed to assure the best result, and at the lowest price. This is yet another example of our "team" approach.

This is a rapidly evolving topic, and one of the services we offer, including Project Management and data assessment, as well as tackling gigabytes of electronic file data. Why consider Litigation-Tech for this service? The reasoning is that having originated from within large law firms, Litigation-Tech's staff is well-versed at saving the firm and the client both time and money during data recovery, data assessment, analysis, duplication and production. Often the real need is little more than locating and producing a few specific documents. We can save your client thousands of dollars in unnecessary discovery and production expenses. Should the case involve forensic-level data recovery, we have a list of preferred vendors, who will work within our specifications, providing you with a useable product ready for trial. We will present you with options for your specific project, rather than simply fitting it into some "pre-packaged" process. Every case is different- so should the discovery/production process be. From database searches to automated SuperDox blowbacks, our in-house experience brings new meaning to a "value-added" service.

Let us make that daunting E-Discovery task regarding Outlook files as simple as opening a Summation or Concordance database. On pre-existing data collections, such as those produced by opposing counsel, we will make the data searchable. The same is true of most of the common file types in use today. Why print, scan, OCR and code, then search? Your searches are far more accurate when dealing with native file formats- plus you can immediately begin assembling your case data as you go, by simply saving your results. When it is time to produce, we offer data conversion from your files to TIFF or PDF format. These formats are normally required for E-filings and litigation/trial databases.

Litigation-Tech can take your photographic negatives or color slides, and convert them to digital format (jpeg, pdf, gif, tif, etc.), which can then be printed and used as exhibits, copied, e-mailed, etc. We can even convert the negatives to positives (normal photo colors). We also scan photographs into files. These images may then be incorporated into your trial presentation, shared with clients and co-counsel, etc.

We offer in-house video services including tape to digital conversion, digital to tape conversion, MPEG conversion, transcript synchronization, and video editing. All of our video work is performed manually and each file is then QC'd, ensuring the best possible product.